INFORMATION ABOUT THE NEW DIREKTNET LOGIN PAGE
Press and News
Providing digital services in favor of customer convenience is especially important to Raiffeisen Bank. Following the implementation of Mobile token authentication method, we developed the internetbanking login and activatoin interface.
Our aim is to provide an attractive, customer friendly and easy-to-use login page for our customers from 22 May 2020.
The change only affected the appearance of the page according to the information below: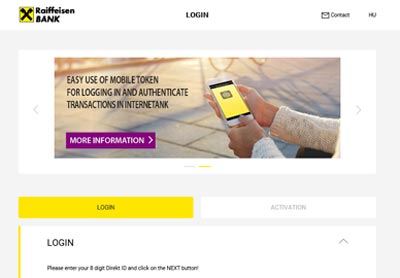 The logging and authentication processes are not affected.
The system presents the following login options based on authentication methods are used:
Login with Mobile token: when logging in to Internet Banking, you can log in using your mobile device - without requiring your password - after providing your Direkt ID. If you have downloaded and registered to Raiffeisen Mobile Application, the system will present this flow by default.
Login with Password: if you did not activate a Mobile token and you do not own a Hardware token, you will be able to log in via providing your Password and an One Time Password sent to you by SMS along with your Direkt ID.
Login with Hardware token: in case you already have a Hardware token previously used for signing transactions, you will be able to log in with it as well.
Further information:
Mobile token
myRaiffeisen mobile application
Raiffeisen Portal Manual