Debit card service linked to your account

If you're looking for what suits you best in everything.
FOR THOSE WHO LIKE SIMPLICITY - Mastercard Standard debit card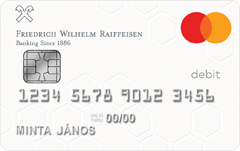 Debit card with a modern appearance that has been planned for everyday needs.
Comfort
Thanks to the Contactless function, you can use your card to pay safely and quickly, with one single movement.
You can have your Mastercard card registered in the Apple Wallet app so that you can pay simply and safely by the contactless method using your mobile phone, Apple Watch or other Apple device, which means that you need not get out your wallet or find your card.
With a modern design, Mastercard cards can be used for purchases in Hungary and abroad as well as in the internet.
For security reasons, of any Raiffeisen card use outside of Europe please notify your advisor or our Private telephone banking service at phone number +36-80-455-455. Click here to read our prospectus.
Useful links:
Private Banking List of Fees and Conditions
Security service information for card use outside Europe
Useful information for Debit Cards
Travel Insurance for Debit Cards
RaiPay Andorid mobile payment application at Raiffeisen Bank
You can pay quickly and securely using our Android mobile payment solution, RaiPay application.
Details