Credit cards

The Platinum unsecured credit card product is available again starting from 04/01/2021.
Please contact your personal banking advisor for the details.
The admission, evaluation and disbursement of the credit products available for Private Banking customers is going on smoothly.
Mastercard Platinum Credit Card for purchases - against a security deposit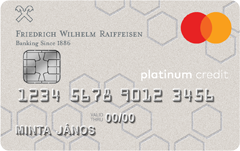 It can be used worldwide for shopping and cash withdrawals at retailers and ATMs displaying the Mastercard® logo.
You may request a credit line up to HUF 5 million for your credit card account. APR: 29.90%1
The Platinum Credit Card offers exclusive services and special benefits:
With the LoungeKey service, you can enter hundreds of airport lounges throughout the world during your travels subject to a fee, no matter which airline you are flying with or what kind of ticket you have. To use the service, you have to register. Click here for detailed information and our guide concerning LoungeKey use:
If you present your card, you and your partner can enter free of charge the Mastercard lounge located in the SkyCourt terminal of the Budapest Liszt Ferenc International Airport, as well as the SKY Lounge and Vienna Lounge facilities of the Vienna International Airport, where you can spend the waiting time before your flight in an exclusive environment.
It includes a travel, accident, sickness and luggage insurance, with an outstanding coverage amount. It is the only one among Platinum cards where accident insurance comprises active sports as well (for example whitewater kayaking/canoeing, rafting, sailing, jetskiing, waterskiing), and also covers the costs of foreign health care.
With your card you can use free of charge - together with 1 guest of yours, and your children under 18 - the Fast Track Security Lane of the Budapest Liszt Ferenc International Airport, which can take you faster to the security checkpoint.
Find numerous permanent and temporary benefits in the Mastercard Premium program.
You can use the international platinum degree benefits of the Mastercard Premium Club, among others at Hertz, one of the top car rental companies of the world, in 147 countries. To use the benefit, please register here.
You are also eligible to exclusive benefits at AVIS car rental company. To use the benefit, please register here .
The services of Mastercard Global Service™ assist you world-wide on a 24-hour basis even in case you lose your card.
Useful links:
Private Banking List of Fees and Conditions
Security service information for card use outside Europe
Useful information for Debit Cards
Travel Insurance for Debit Cards
RaiPay Andorid mobile payment application at Raiffeisen Bank
You can pay quickly and securely using our Android mobile payment solution, RaiPay application.
Details
1Credit line HUF 1,000,000, interest 1.75%, annual card fee HUF 39,938. The settlement period taken into account in the calculation of APR lasts from the 25th of each month until the 25th of the next month. If the first or the last day is not a banking day, the banking day that immediately precedes such non-banking day shall be taken into account when calculating the settlement period.